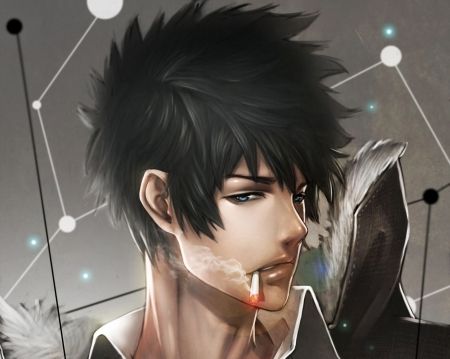 Name: Dante Kurogane
Gender: Male
Human
Height: 6'
Weight: 167
Date of Birth: ???
Age of Appearance: 18-23
Actual Age: 19
General Appearance: What do you look like? Keep in mind appearance rolls don't affect this that much.
[The Inside]
Origin: Carefree, longing, loyal
Place of Birth: Land of Fire
Alignment: Chaotic Neutral
Organization/Occupation: Traveling Circus member/ Bounty Hunter
General Personality: Dante is generally seen as a compassionate person. Those that know him through the circus see him usually smiling and working hard for his group. Although one thing remains constant with Dante. He almost never initiates a conversation with strangers. This is caused by his second hobby, which of course is his bounty hunting. Dante only ever accesses his bingo book under two conditions. One: The circus needs funds. Two: He gains something from the bounty itself.(other than the funds)
Likes:
Spending time with the other Circus members and friends he's made along the way.
Smoking
Eating
Promises
Dislikes:
Being betrayed
Seeing those close to him hurt
Being a burden
Habits:
Smoking
Watching clouds
????
Special Traits: He really likes to eat. Also known to flick things into oblivion.
[Capabilities]
Classification: Taijustsu user capable of enhancing his physical traits.
Advantages: What does your character have that sets them out from other people? (3 base cp to spend.)
Disadvantages: What does your character have that makes them unlucky, something they aren't the best at? (Can only have 3)
Exceptional Skills:
Acrobatics- skills developed during his time with the Circus
Athleticism- For when they try to run
Music- pretty decent at guitar
Starting Weapon: His fists
[The Past]
Timeline:
0: born
1-8:???
9-10: Met Ace Toromaki
11-19: Time with circus
Family: Unknown
History: Will be shown if he decides to make it known. Very few know of his history prior to his circus career.
Weapon Mods: Ninja
Martial Arts:
Shotokan- Supreme Degree
God Hand- Base
Ki Abilities:
Erudition
Aura extension
Presence Extrusion
Increased Damage&speed
Inhumanity
Ki Techniques:
First Movement: Jinsoku
Second Movement: Ken
Third Movement: Chikara
Fourth movement: Han'nō